I don't often reread books, even my favourites, but I felt that after watching the first film in The Hobbit Trilogy I needed to refresh my memory. After all it had been about 18 years since I last read it!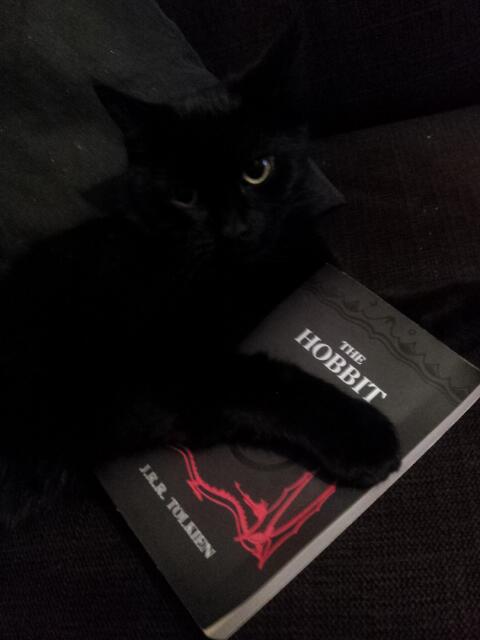 Dean, grasping his copy of The Hobbit
I
reviewed the first Hobbit film
and although I enjoyed it, all the parts I remembered from the book were in the film which got me thinking what the other two films would contain. I had forgotten 80% of the book and I'm so glad I picked it up.
The Hobbit is a road trip, a story of friendship and a story of courage. I don't tend to look deep into meanings of books, I simply like to enjoy whatever adventure it takes me on and I was not disappointed with The Hobbit. The previous time I read the book, I was about 13, I loved Gollum and also the three trolls. Both of these seemed to appear quite quickly in the book, but I think that this may be because I was comparing it to
Peter Jackson's film
, in which he pads out the intro of the Dwarves to a full hour. The dwarves are all ready and waiting and on the road with Bilbo Baggins (The Hobbit of the title) within a few chapters. A mix of memory from when I first read it and the film meshed together so it seemed the start really whisked along. Don't get me wrong, I loved discovering Thorin the dwarf along with his 12 companions in Tolkiens own words rather than Jackson's drawn out, somewhat pantomime way, I just think I'd have loved it even more if I hadn't seem the film.
Once the book gets to the part where the film ends this is where I could invest further, as I had no idea where it was going to take me. I was lost in Mirkwood, I was in danger with the Spiders and had a rollicking ride rolling in barrels. The 'Big Bad' of The Hobbit, Smaug the Dragon, is a shifty, Machiavellian devil and his booming voice and attack on The Lonely Mountain had me unnerved. The peripheral characters all played their part too and although some were a little sketchy, such as Thandruil, King of Mirkwood, there was enough atmosphere to pull me into their world. Beorn the bearman was a particular favourite and I can't wait to see how he is shown on screen.
The second film, The Desolation of Smaug is out tomorrow. I urge you to read the book first if you can!
I've given the book 8 cushions on the
Comfometer
.
Here is the trailer for the new film.
Michael
Buy books
Like us
Follow us